All Work Guaranteed for 12,000 miles or 12 months whichever comes first.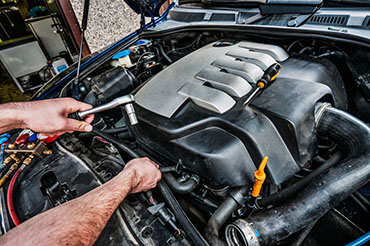 Astro Automotive has been a leader in Denver auto repair for over 50 years striving to keep our customer's auto repair service experience the best in Denver! Astro Automotive is a Denver "native" servicing the metro area with a staff that represents over 125 years of combined auto repair experience, specializing in diagnostics and full service repairs of domestic and import vehicles.  In addition to general repair, we offer expert maintenance services designed to keep your vehicle operating at its peak and maintaining your vehicle's recommended mileage interval services as required by the manufacturer.
Please check our "Services" section for a complete overview of all our featured services including:
Factory Scheduled Services
Alignment
Oil Changes
Air Conditioning
Brake Service
Batteries
Steering
Tune-Ups
Suspension
Tires
Explore our website to learn more "About Us" and learn more about your vehicle and what services Astro is able to offer you.  Among these services is our new "Owner Auto Site", an amazing website that is available to all our customers that allows them to view the individual repair history for each vehicle they own. This is an interactive site that allows us to keep you advised of needed mileage services, oil changes and recommended repairs by computerized estimations of your mileage using your repair history. In addition to these reminders, you can schedule appointments and ask questions online. There also are some great educational videos that will take the mystery out of the auto repair process by showing you how and why of what goes on under the hood.
We recently have added a "Coupon" page to our website. Check it out monthly for new money-saving coupons.
ASTRO AUTOMOTIVE'S CUSTOMER SERVICE
Same day service on most auto repair services
1 year or 12,000 mile warranty.
Over 50 years in business with a dedication in providing the best maintenance and repairs while creating an excellent customer experience.
28 point courtesy check with every oil change.
Affordable repair services.
6 months no interest financing available.
Astro will prioritize needed repairs by importance.
Comfortable waiting area with wireless internet access.
Honest, friendly and knowledgeable staff.
Shuttle service (1 mile radius includes drop off at the Alameda Light rail station)
Vehicle maintenance and shop recommendation reminders.
Easy communication with customers by using email and text including pictures and other important information to allow our customers the ability to make well informed decisions as to the repair of their vehicles.